Pour travailler tous ensemble maintenant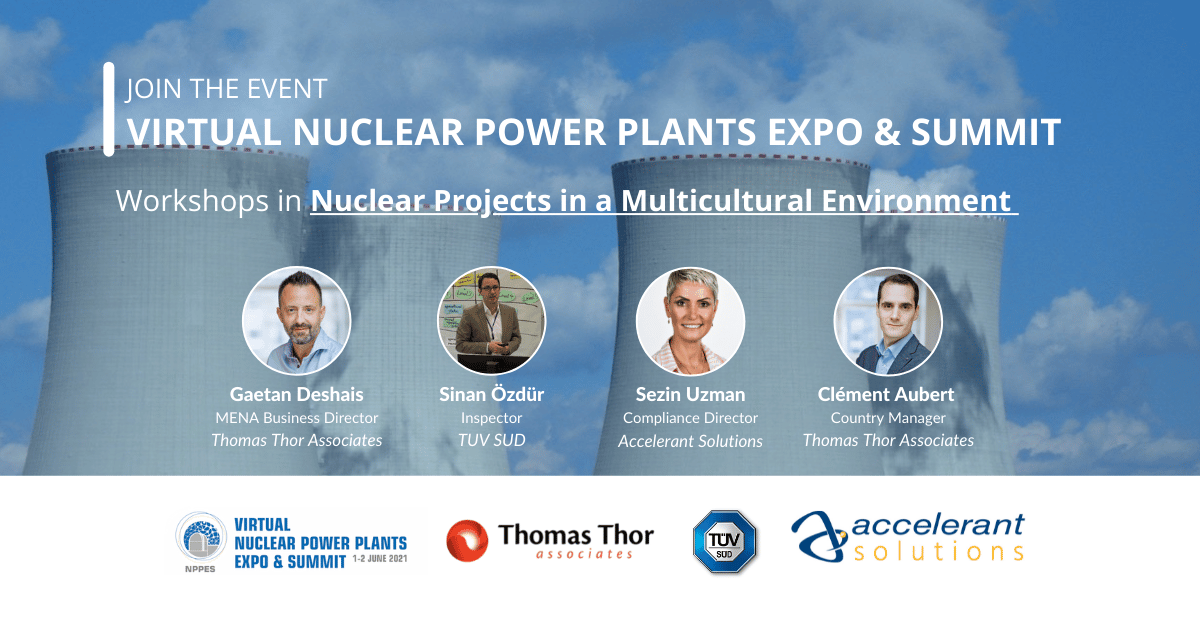 La multiculturalité des équipes est désormais chose courante dans le secteur nucléaire. Cependant, pour les responsables, intégrer des professionnels expérimentés d'origines diverses reste un défi. Cibler sa communication est essentiel pour y parvenir tout en libérant un haut degré de productivité et d'innovation, a conclu un panel discutant de la question au Virtual Nuclear Power Plants Expo and Summit qui s'est tenu le 2 juin 2021.
Selon Sinan Özdür de TUV SUD, des études montrent qu'être exposé à différentes cultures aide les individus à aborder une situation avec une multitude de perspectives, et que, dans un contexte d'équipe favorable, la diversité des points de vue favorise la créativité, l'innovation et la réflexion transversale. Ainsi, certaines entreprises entremêlent consciemment les cultures afin d'obtenir de meilleurs résultats. Hitachi a internationalisé la plupart de sa recherche afin de fusionner les cultures japonaise et occidentale, tout comme Philips transfère régulièrement ses effectifs entre les services et sites afin de stimuler leurs idées, croiser leurs connaissances et améliorer la communication.
La gouvernance très multiculturelle du secteur nucléaire reflète quelque peu cette approche,   notamment au sein de l'Agence internationale de l'énergie atomique (AIEA), de l'Association mondiale des exploitants nucléaires (WANO) et de l'Institute of Nuclear Power Operations (INPO). Grâce au modèle fourni par ces organismes, le secteur est dans une position idéale pour tirer parti de la multiculturalité des équipes, a expliqué le président de la séance, Gaetan Deshais de Thomas Thomas Thor Associates.
Des professionnels expérimentés du monde entier travaillent dans le nucléaire. Si on peut les placer relativement facilement dans un poste qui correspond à leurs connaissances et compétences techniques, la façon dont les membres de l'équipe vont interagir est moins prévisible. La barrière de la langue est bien sûr un facteur et l'expérience unique de chacun dans le nucléaire peut aussi jouer, a souligné Sezin Uzman d'Accelerant Solutions. Toutefois, les questions en lien avec l'appartenance culturelle prévalent étant donné qu'elles influencent toutes les facettes du comportement d'un individu.
Uzman a expliqué que lorsque les membres d'une équipe détiennent des identités diverses, leur interprétation, compréhension et réaction face aux développements d'un projet en sont affectées. Des malentendus sur les attitudes et intentions d'autrui peuvent perturber la productivité et la prise de décision tout autant que ceux portant sur les consignes et les interactions.
Selon Özdür, les défis majeurs viennent des rapports entre les individus dans des équipes multiculturelles ; or ce ne sont pas les différences qui posent problème, mais plutôt les réactions face à ces différences. L'appartenance culturelle étant la première problématique à laquelle les équipes multiculturelles sont confrontées, a-t-il ajouté, la solution consiste à se concentrer tôt sur la communication et être constant.
Le projet Barakah aux Émirats Arabes Unis nous offre quelques exemples de bonnes pratiques. Parmi les 10 millions d'habitants, les ressortissants des Émirats Arabes Unis ne sont qu'un million. Le pays a ainsi une expérience formidable pour savoir comment travailler avec des personnes d'autres cultures. Ils avaient compris depuis le début que leur secteur nucléaire devrait être multiculturel, tout comme leur industrie pétrolière l'est. Jusqu'à 60 pays sont représentés dans le programme nucléaire des Émirats Arabes Unis, et toutes ces personnes forment cependant une équipe globale.
Clément Aubert de Thomas Thor Associates a indiqué que les sociétés mettent souvent en place des programmes d'insertion qui visent à établir dès le départ les règles de base pour une équipe multiculturelle. Il est par exemple important de spécifier qu'une seule langue officielle sera parlée pendant la durée du projet. Les consultants ayant eu une expérience ailleurs doivent être conscients du fait qu'ils devront suivre les règles du projet et ne peuvent se comporter comme des observateurs qui décideront d'eux-mêmes d'en dévier. Au cours de la formation sur l'intégration et la promotion de la diversité et l'inclusion, il peut être utile de passer par des interprètes pour renforcer ces points.
« Nous avons dû élaborer une stratégie pour que toutes ces personnes s'investissent au sein de la société et travaillent ensemble », a expliqué Uzman qui a occupé plusieurs postes dans le projet Barakah. D'après elle, le projet a dû renforcer continuellement un ensemble de règles communes afin de respecter les origines culturelles de tous, de créer un style de leadership cherchant à gagner la confiance et communiquer ses valeurs en tant que société. « Il était essentiel au début de se montrer stratégique sur ce point », a-t-elle ajouté.
Organizational Design Analyst
Radioactive Waste Management - Harwell
Amsterdam, The Netherlands
Sector:Radioactive Waste Management
Category:Engineering
Organizational Design Analyst
Radioactive Waste Management - Harwell
Amsterdam, The Netherlands
Sector:Radioactive Waste Management
Category:Engineering
Organizational Design Analyst
Radioactive Waste Management - Harwell
Amsterdam, The Netherlands
Sector:Radioactive Waste Management
Category:Engineering
Help us grow and achieve your potential at a values-driven business.