At the forefront of the UAE nuclear energy programs' many firsts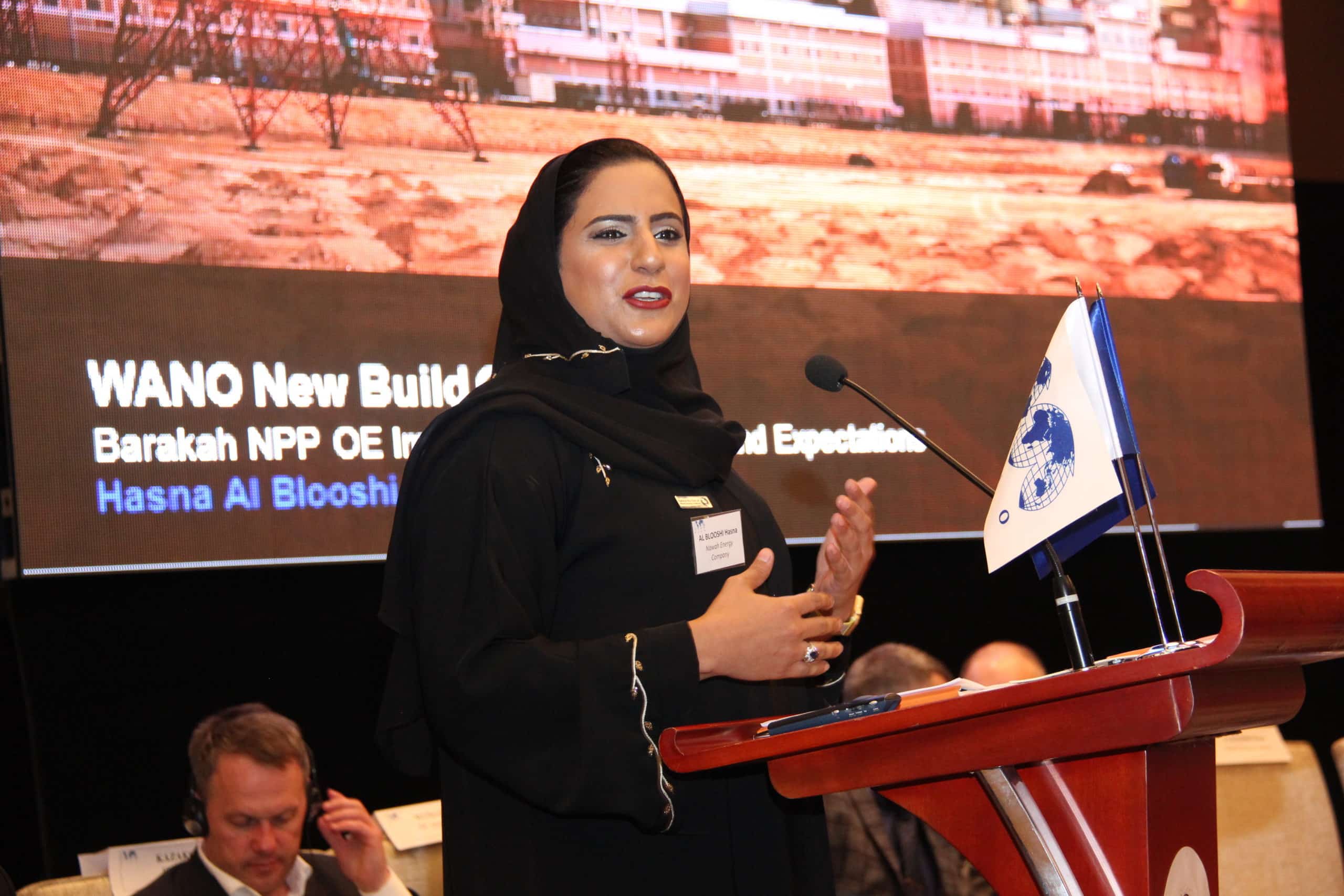 <<photo – caption: Hasna Al Blooshi is currently the Director of Training at Nawah Energy Company, a Joint Venture subsidiary of the Emirates Nuclear Energy Corporation (ENEC) and Korea Electric Power Corporation (KEPCO) in charge of operating and maintaining Units 1-4 of the Barakah Nuclear Energy Plant located in the Al Dhafra Region, Abu Dhabi Emirate, United Arab Emirates.>>
Hasna Al Blooshi knew early on that she wanted to work in the energy sector. "My parents worked in the oil and gas industry, so I grew up in a family talking about science, technology, and engineering in our day-to-day lives," says Hasna, who is currently the Director of Training at Nawah Energy Company. It was only natural for her to follow in her parents' footsteps. She started working for an operator in the oil and gas industry while completing her university studies in the evenings. Later, when the UAE launched the UAE Peaceful Nuclear Energy program, she jumped at the chance to be a part of what would become one of many historical firsts for the country and the Arab world.
"Pouring the first concrete of Barakah Unit 1 was an excitement no one can describe," Hasna says, "the Barakah Plant is the first in the Arab world, so every milestone is historic and there are so many momentous occasions. It's not just a celebration for us as employees, but also for all UAE nationals."
<<Photo: Hasna Al Blooshi (left) at the construction site of the Barakah Nuclear Plant.>>
Consisting of four APR-1400 nuclear reactors, the Barakah Nuclear Energy Plant went commercially operational with Unit 1 this year. Unit 2 will soon follow suit after having successfully connected to the grid already. Units 3 and 4 are not far behind, with Unit 3 construction now completed. When all four units are fully operational, it is expected to supply up to 25% of the UAE's electricity demand and contribute to the global effort in reducing carbon emissions.
The Barakah Plant spells massive opportunities for the Arabian Peninsula and the global nuclear industry sector. It provides a positive case study for new nations considering nuclear energy, offers a solution to climate change, and diversifies the UAE's energy portfolio.
It also showcases the need and importance to invest in developing a pipeline of talent that will lead the UAE's growing nuclear energy sector. According to Hasna, talent development is an area with a lot of opportunities. "We want to make sure that there are training opportunities to work towards operational excellence for employees. We continue to recruit and train professionals to ensure that a sustainable pipeline of UAE talent is available for the next 60 years of operations."
Huge investments have already been made on that front. For instance, the Barakah Plant's state of the art training facility includes two operational full scope nuclear reactor simulators, and two more are on the way. These facilities are used to train operators to enhance the sector's human resource capacity. Moreover, collaborations with academic institutions are providing employees the opportunity to virtually attend university classes without the need to travel long distances.
Fostering the next generation of Emirati leaders, especially women, is part of the calculus too, and something that Hasna feels passionate about. In the UAE, approximately 70% of all university graduates are women. And while the nuclear industry is globally considered a traditionally male-dominated sector, the UAE has one of the highest percentages of women working in nuclear energy – about 20% of the UAE's nuclear workforce are women.
"I continue to promote and encourage young women to join the UAE's nuclear energy program, benefit from the training and job opportunities that we have here. This is truly a very unique industry and a 'once in a lifetime' opportunity for people to be a part of."
Hasna was instrumental in establishing the Barakah chapter of Women in Nuclear in order to help the nuclear sector become an employer of choice for Emirati women. The chapter connects those already working in the sector to a global network of 35,000 women from over 130 countries worldwide. In 2016, the chapter successfully hosted the annual Women in Nuclear conference, which brought hundreds of women delegates from across the globe to experience the UAE's Peaceful Nuclear Energy Program and to network, share knowledge, and learn from each other.
<<Caption: Hasna Al Blooshi (pictured third left) was instrumental in establishing the Barakah chapter of Women in Nuclear, a global network of professional women working in the nuclear sector.>>
It has been a decade since she immersed herself in the nuclear energy industry, and every day she feels excited to go to work. "It's really motivating to be a woman pioneer in the UAE's nuclear energy sector… being part of a new era of clean electricity, and supporting Nawah to become a leading global nuclear operator."
That feeling of responsibility and pride is brought home to her three young children. During their regular evening teatime, her children eagerly absorb the pioneering stories of the Arab world's first successful nuclear plant. Just like her parents did when she was young, Hasna is inspiring them to think about where the energy they use comes from and the role they can play in innovating for the future by pushing boundaries. She reiterates the national motto that every Emirati knows – Nothing is impossible.
Help us grow and achieve your potential at a values-driven business.