Thomas Thor supports the project support 2000 Kenya school girls with reusable pads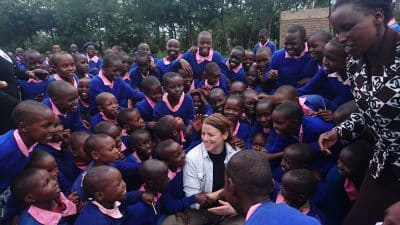 For many girls in Kenya menstruation is still a nightmare which results in missing school: research shows that 65% of women and girls can't afford sanitary pads. The project aims to support Karunga Women Self Help Group in the production of reusable ecological sanitary pad kits and cotton shopping bags, which will be distributed to the vulnerable communities fulfilling two needs:  
1) improve the girls' hygiene thus encouraging attendance and performance at school and
2) reduce the use of plastic bags to contribute to a sustainable environment which is in line with Kenya plastic waste management strategy.
How we got interested in this project:
For nearly 6 years Asena Filková worked as a contractor for Thomas Thor in Paris and in Bratislava. At the beginning of 2017, she decided to change her life and started to work for People in need Slovakia, a non-profit civil society association, established in Slovakia in 1999. She was then detached to the NGO Network for Ecofarming in Africa, Kenya chapter – NECOFA  – a community based organization promoting Ecofarming: ecologically and socially sustainable land Management. It works towards empowering communities to sustainably access education, health, food security and social dignity. The organization has activities in Nakuru, Baringo and Makueni counties and works with rural community groups and schools.
Asena set up this project among others and the personal connection between her and Thomas Thor made it a very obvious opportunity for us to help.
Thomas Thor supports women empowerment and believes it starts with equal opportunity to access education. By helping girls to attend school and women to create sustainable products that are useful to their community and environment friendly, we hope to be part of a more global change.
What you can do to support this project: donate, share on social media and just spread the word among your family and friends.
To make a donation, go to  https://www.globalgiving.org/projects/support-2000-kenya-school-girls-with-reusable-pads/ .
Help us grow and achieve your potential at a values-driven business.